The baby's room Sweet Dream Baby contain 17 new meshes: crib, changing table, dresser (animated), desk, chair desk, table end, table lamp, ceilling lamp, a flower in a vase, curtain, a screen a clock in decoration (not animated), a mobile, a high chair, a little potted, a little piano to learn creativity, a little train to learn logic. and 2 recolorations: pink and green for 7 objects 33 files .package in totality for 3€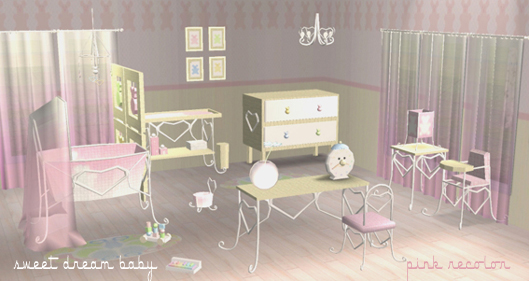 After you have made your donation, a link on PayPal will direct you to the download file. If you are not directed, please email me at gwenaleks@hotmail.com, I will send you the objects by mail.
Après votre donation sur PayPal, un lien vous dirigera sur le fichier de téléchargement. si vous n'êtes pas redirigé, envoyez moi un e-mail à gwenaleks@hotmail.com, je vous enverrai les objets par mail.